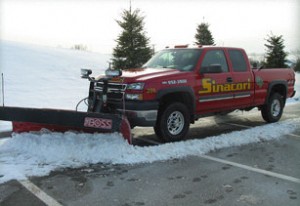 Don't allow Michigan ice and snow make your drivewa, walkways or steps dangerous. With the help of a residential snow removal service, you can remain warm and cozy in your home while the snow plow professionals at Sinacori Landscaping in Shelby Township, Michigan clear your driveways and walkways!
Winter is just a few months away.  Which signifies that now is the time to hire your snow removal service for the winter months. Snow and ice can be a huge problem when you have to clear your driveway or shovel your steps, but with the help of Sinacori Landscaping, your Michigan snow plowing service, you can experience the beauty of winter weather while not having to concern yourself with the work!
Snow Plowing services are a simple, inexpensive way to take the stress out of Michigan's winter months. Rather than having to invest hours outside shoveling every single time it snows, you can sit back and relax while the snow plowing experts at Sinacori Landscaping take exceptional care of you. Our Michigan snow removal service can help keep both residential and commercial properties clear from snow and ice, and with the specialized tools required for full snow removal, our snow plowing professional can ensure the snow is removed free of damage to  your asphalt or landscaping. Snow plowing and removal is perfect for:
Residential and Commercial Walkways
Residential and Commercial Steps
Residential and Commercial Driveways
Commercial Parking Lots
Residential Porches
Residential and Commercial Salting
So irrespective of whether or not you are concerned about customer safety at your commercial location or you just need to be able to pull into your driveway after it snows, snow plowing and removal services are a practical answer to Michigan winter. Sinacori Landscaping's snow plow service will save you the time and effort of shoveling heavy snow, make sure your walkways and driveway are no longer slippery and slick, and can even avoid injuries sustained while shoveling. With these remarkable benefits, it's no wonder that more and more Macomb and Oakland County home owners and business owners are contacting Sinacori Landscaping's professional plowing snow removal teams for their wintertime demands.
And keep in mind that, many snow plowing companies in southeast Michigan have a limited capacity and slots may fill up fast. Don't get stranded shoveling your own driveway this winter: call the snow plowing experts at Sinacori Landscaping without the hassle, inconvenience, and back-breaking work. Stay inside your home this winter and let us take care of all of your snow removal needs!
If you are considering hiring a snow plowing and removal company, you can contact Sinacori Landscaping in Shelby Township, Michigan at 586-677-6400 or visit our website at www.sinacorilandscaping.com.  Sinacori Landscaping provides Commercial and Residential Landscape Design, Lawn Maintenance and Snow Plowing Services in Macomb County, Oakland County and all of southeast Michigan.